CONCRETE CONTRACTOR ON OAHU SINCE 2001
CONCRETE CONSTRUCTION | FLAT WORK | DRIVEWAYS
A-Z Concrete Construction Services
With over 15 years of construction experience, Oahu Concrete Paving offers complete concrete construction services on Oahu.  We can handle the entire concrete process from start to finish.  From demolishing existing concrete, performing the site work and grading for preparing the ground to receive the concrete, complete form work and forming, placement of rebar and other metal reinforcements, pouring and placement of the concrete, finishing the concrete to your desired finish, curing the concrete, and finally sealing the concrete.  We perform all of the steps within Oahu Concrete Paving to ensure the best results for your project.  Other concrete contractors on Oahu will subcontract parts of their work out, resulting in unpredictable results.  We are one of the only concrete companies on Oahu that offers the complete construction process from start to finish, allowing us to provide the best quality at the best price possible.  We can build sidewalks, driveways, patios, slabs, foundations, retaining walls, footers, hardstands, stamped concrete, concrete overlays, pool decks, garage floors, concrete resurfacing, concrete repairs, and specialty concrete projects.  We service the entire island of Oahu for our concrete paving and construction services. We provide free estimates.
Free Estimates
Free On-Site Consultations
SEND US A MESSAGE
(Yes - we check our messages & will reply)
Concrete Foundations & Slabs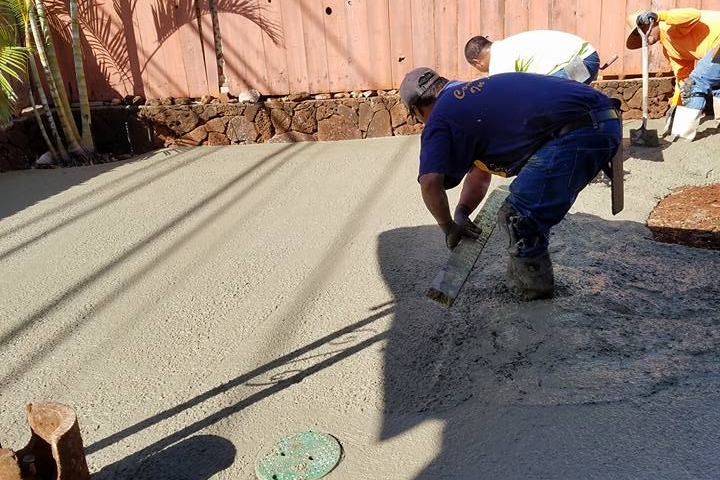 Concrete Repairs & Resurfacing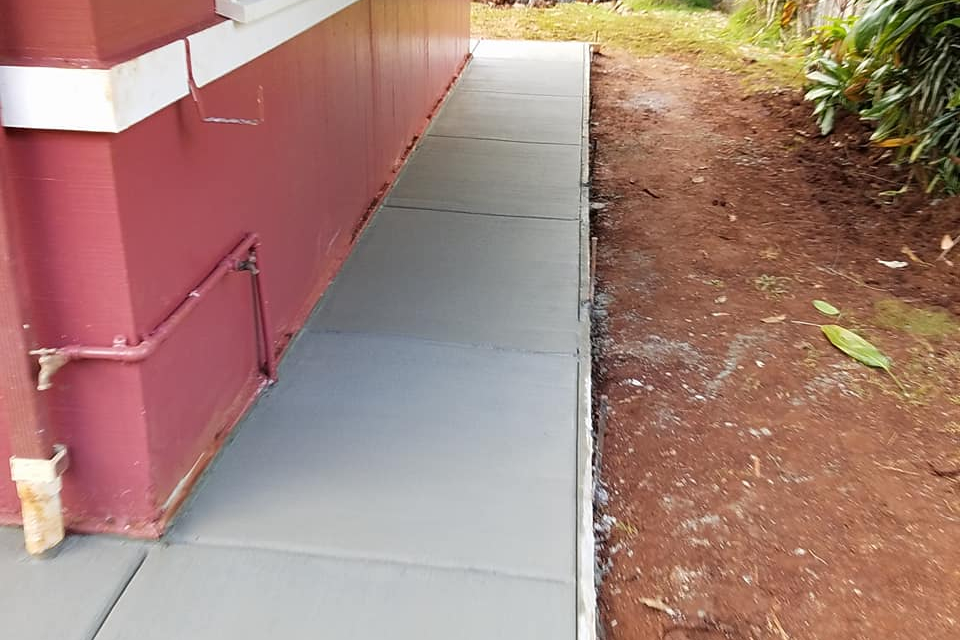 Concrete Sidewalks & Walkways
We Price Challenge Any Licensed Competitor's Written Estimate
Stamped Concrete Contractor on Oahu
Servicing all your stamped concrete needs, Oahu Concrete Paving serves all residents and businesses in Honolulu, Hawaii.
Stamped Concrete Explained
Sure a lot of concrete companies on Oahu can pour standard concrete, but producing high-quality stamped concrete is arguably a form of art. Stamped concrete is the result of a meticulous process that involves the addition of unique patterns, texture and colors on partially dry concrete, initially poured on different surfaces including walkways, driveways, parking lots and patios. As it can be given a finish that resembles cobblestones, pavers or brick, stamped concrete can greatly improve the appearance of the space where it is installed, and it is quickly becoming the norm in both residential and commercial concrete projects in Honolulu. The final appearance of the project is a stunning and exciting print.
Here's why stamped concrete is better than other available alternatives on Oahu:
Traditional alternatives such as cobblestone, pavers and brick may not be a perfect fit depending on where you live as well as your preferred final look. Overtime, for instance, cobblestones, pavers and bricks will move away from each other if they are used to create a flat or structured pattern over an area where the ground is uneven. However, you can achieve the flat and structured look you envision with stamped concrete.
Some traditional surface materials may be lacking in terms of the advantages that stamped concrete can offer. These advantages include the following:
Affordable: When limited to a specific budget, an economical solution is invaluable. When it comes to installation over expansive spaces, such as patios, driveways, walkways and pool decks, stamped concrete is a favored choice over alternatives, such as stone, tiles and bricks simply due to its substantially lower cost. You have a highly affordable option in stamped concrete.
Long Lasting: In addition to being affordable, stamped concrete is highly durable, as it is made of a material that is weather resistant. It will retain its value for years to come as it can hold up well to extreme weather conditions experienced on the island of Oahu. In fact, for the first 25-35 years after installation, maintenance requirements for concrete driveways are minimal. This is good news for your concrete project on Oahu, because your initial investment will last a long time.
Minimal maintenance requirements: Stamped concrete surfaces are not prone to damage as they do not have any spaces, grout or seams. Keeping these surfaces in the best condition is effortless as they are also easy to clean. Your new concrete surface can withstand anything that the Honolulu weather can throw at it, from pouring rain to hot temperatures, if you apply a simple concrete sealer for added protection and clean it by scrubbing the surface using a hose and stiff brush. Depending on where you live on Oahu, your concrete surfaces may require at most a pressure washing once in a while
Create any appearance you desire: If you want the appearance of the new surface to resemble that of the most luxurious materials, stamped concrete textures will help you rival the real thing. This is where an experienced concrete contractor on Oahu can stand out from the others. Imprinted concrete is also a preferred paving material in outdoor applications thanks to the many creative options it offers. You can create the exact final appearance you envision given the many patterns of stamped concrete available, including brick, tile, wood, stone, flagstone, and slate.
Serving all Honolulu and Oahu residents and businesses, we provide concrete stamping as one of the best low-cost alternatives available. For a solution that brings together the natural beauty of paving with the strength and long-lasting nature of concrete request our stamped concrete services. Invest in style by choosing our stamped concrete solutions from Oahu Concrete Paving.
Installing Concrete Driveways
For both commercial and residential properties in Honolulu, Hawaii, we specialize in the installation of top quality stamped concrete driveways.
Reasons To Get A Concrete Driveway Built By Oahu Concrete Paving
Most concrete contractors on Oahu consider concrete to be an affordable solution for driveways thanks to its exceptional quality and easy-to-maintain nature. The introduction of a variety of decorative choices for has also worked to boost the popularity of concrete driveways. Oahu Concrete Paving has built over 300 concrete driveways and it is one of our most popular concrete services. You can enhance the appearance of your building or home with a new concrete driveway that matches its style or design. Concrete can now be used to build stylish driveways, far from the dull gray finish of the past, thanks to the ability to add any color or pattern.
Concrete Driveway Advantages:
Minimal Maintenance Needs: To ensure that your driveway maintains its new look, you only need to clean it every now and then.
Highly Durable: Concrete driveways can be used for years to come. They can actually last at least twice as long as those made from asphalt.
Energy Saving: Concrete surfaces are highly reflective and can make the lighting appear brighter. This means that your driveway won't need as much lighting. Thus, helping you achieve significant energy savings.
Environmentally Friendly: Concrete driveways come with the added benefit of helping you achieve a level of environmental awareness and corporate sustainability in a time when it matters. You will be satisfied that you have done your part towards ensuring environmental sustainability after choosing a concrete driveway as it is made using sustainably sourced materials, including cement, water, and natural rock.
Concrete can be recycled: The concrete can be recycled after being removed and crushed if the need ever arises.
Our Concrete Driveway Installation Process
To ensure that your concrete driveway serves you for years to come and remains in perfect condition throughout this time, Oahu Concrete Paving follows a meticulous installation process. Our exceptional team of installers has the necessary skills, knowledge, and experience. We use our impeccable installation to meet all your needs and expectations, which we are aware of from the start. To create the best driveway, we abide by the following steps:
Meticulous subgrade preparation
Creating the right concrete mixture
Placing all joints properly
Putting all reinforcements in place
Measuring the thickness of the concrete to ensure that it is up to grade
Ensuring that the drainage is in place
Finishing the poured concrete
To ensure that your new driveway looks stylish for decades, we add a unique touch by offering concrete stamping services on Oahu. We also offer a variety of additional services including concrete staining on top of the concrete stamping.
While offering the same advantages as brickwork and other options, our stamped concrete driveways are highly popular with our Honolulu clients, both residential and commercial, due to the added affordability.
To ensure that you end up with the driveway that you envisioned at the beginning, we combine the use of the latest technology with years of experience in the installation and repair of concrete driveways.
Installing Concrete Slabs And Foundations
When it comes to concrete slabs and foundations, we are one of the most reputable concrete companies on Oahu. A superior concrete slab and foundation are the basis of any stable building.
Importance of Concrete Slabs and Foundations
Cracks in concrete, capable of developing into extensive structural damage in your commercial or residential building, is mostly caused by foundation damage. You can save yourself from ever having to worry about such problems by having quality slabs and foundations installed. To ensure that your construction project starts with quality workmanship, Oahu Concrete Paving's team of experienced and knowledgeable experts have mastered the process of laying concrete foundations as they are well versed with the common problems associated with damage to foundations.
We follow a meticulous process during the installation of our concrete slabs and foundations. Here are the steps included in the process:
We start with demolition or excavation
The right footings are then made in the space
Insulated concrete walls are then constructed
Slabs are properly laid
Lastly, drainage and waterproofing
We leave you with a site that is now ready for the next batch of contractors, carpenters, after completing the above process which started with excavation. Our focus is to make sure that your project achieves the required quality, efficiently, with each concrete slab and foundation installation.
Installation Of Concrete Patios
Get the most value for your money with our high quality concrete patio solutions.
Design Layout And Finishing
Our first step towards building you the patio of your dreams involves focusing on creating the right design. The key to building a beautiful and functional outdoor living area is the right design. To ensure that you end up with a space that you can be happy with for years to come, we use the right design to come up with a multipurpose and functional patio.
When looking to create the perfect patio, you need to address two important concerns:
Your intended use for the space
The amount of space available
We will guide you through the process of choosing the right materials for building the patio after you have settled on its shape and size. You can choose your preferred materials from the various surface options in our portfolio.
For your new patio, you can choose from the following list of surface options:
Engraved Concrete
Exposed Concrete
Stained Concrete
Stamped Concrete
Stenciled Concrete
Colored concrete options
Reasons To Get A Concrete Patio
A few decades back, before wood decks became popular, most patios were made of concrete, brick and stone and other hard materials. Fortunately, Honolulu residents can enjoy the advantages of concrete once more. They include:
Long Lasting: Concrete is a favored option for patios thanks to its ability to stand up well to direct exposure to a variety of weather conditions for extended periods.
Minimal Maintenance Requirements: You do not need to stain or reseal your concrete patio like wooden alternatives. Furthermore, to prevent the growth of weeds or grass, you do not need to use sand to fill any gaps as is the case with paving stones.
Unique: You can create your own unique patio thanks to the design versatility of concrete coloring, stamping and stenciling tools. Customizing your patio is easier with the seemingly unlimited design options.
Eco-friendly option: By using concrete and avoiding wood you get to save trees. To be more eco-friendly you will also avoid the use of wood sealers and staining products by choosing a concrete patio.
Affordable: Concrete patios can be designed to be as attractive as other costly materials, including paving bricks, at a fraction of the cost. The value of concrete patios is further boosted by their durable and low maintenance nature.
Resurfacing Concrete Pools And Pool Decks
Throughout the entire Honolulu area, we offer top notch concrete pool and concrete pool deck services. You can enjoy your swimming pool for years into the future, free of repairs and damage, with the help of our seasoned experts.
Importance Of Concrete Pools & Concrete Pool Decks
The concrete decking of your swimming pool can develop cracks as a result of direct exposure to harsh weather conditions. The penetration of water under the concrete can cause these cracks. Cracks can start developing on concrete decks and pools, even with their durability and strength, just a few years after installation due to extended exposure to harsh weather and use of the facilities. For a free quote for any of your concrete projects, and for more information about our concrete decks and pool replacement services, contact us. From our wide selection of materials, we will help guide you to the right choices.
To help you complete the installation or replacement of your deck and pool to perfection, we can work with you, providing timely concrete deck and pool installation services, coupled with exceptional customer service.
Installation Of Concrete Steps And Walkways
For commercial, residential and even industrial spaces, we offer top quality concrete steps and concrete sidewalk installation services.
Reasons For Installing Concrete Steps and Concrete Sidewalks
Along high traffic areas, gardens, trails, parks and areas around your home, steps and walkways help you create useful paths. They help keep traffic from public or private areas that have been landscaped by keeping users along specific paths.
Concrete Steps And Concrete Sidewalk Options
For the best look and uniqueness, concrete steps and concrete sidewalks can be stained with various colors or stamps. Our steps and sidewalks are expertly and creatively constructed. Your commercial or residential property is bound to stand out from the rest with our creatively designed and durable, steps and sidewalks.
Installation Of Concrete Garage Floors
You might find that your garage still looks dull and dirty even after cleaning it extensively. Fortunately, we can enhance the durability and appearance of your garage with our polished garage flooring services conducted by our team of professionals.
For a water-resistant finish, we will seal any pores in your garage's new concrete floor after polishing and grinding it to make it denser once it has been laid. The durability of the new floor is also boosted by the extra finishing services.
We offer both commercial and residential concrete garage flooring services. From retail shop and warehouse flooring to the residential garage and basement flooring in Honolulu, our concrete garage flooring service is a perfect fit. To keep your garage from looking dull and cold, we use a carefully crafted concrete garage flooring installation process. Your garage will get a one of a kind look thanks to the customization of the pattern, polish, and even color, to accommodate any logos or graphics or designs you might have in mind. As the perfect solution, our concrete garage flooring service is offered at an affordable rate.
Our garage flooring solution is perfect for the following applications:
Residential Properties
Commercial Establishments
Offices
Dining establishments
Museums
Shopping outlets
Fire stations
Warehousing facilities
Hotels
Wherever you are in Honolulu, contact Oahu Concrete Paving via phone for a free quote and to discuss your next concrete project.
You probably don't give much thought to the concrete in and around your home but this foundation can quickly become an issue when not installed correctly. When you need a function, well-designed concrete help in Honolulu, HI, Oahu Concrete Paving is ready for action! 
Our team has over 15 years of experience in quality construction and our repertoire is growing every day! We've made a name for ourselves in the area by tackling concrete demolition, formwork, and framing, and pouring, placing, and finishing every concrete project in a timely manner. Every step of the process is controlled and performed by our team so you never need to worry about other concrete contractors in Honolulu stepping in and performing shoddy work. 
If you can name it, we can create it in concrete! Oahu Concrete Paving is ready to build new sidewalks, driveways, patios, foundations, retaining walls, pool decks, and so much more in and around Honolulu. By starting with a free estimate, you'll know precisely what your project will cost before we even start moving dirt. You'll be part of the process as our team designs and executes your project to perfection! 
Skip the boring flat driveway and opt for something new and exciting! Functionality is only part of the process with Oahu Concrete Paving. We strive to create something that fits with your homes aesthetic, stays within your budget, and lasts for years to come! Call us today to start on your project with a free estimate! 
Primary Services We Offer
Concrete is a substance that we rarely give much thought to. But with this versatile material, Oahu Concrete Paving can create a whole new aesthetic and give your home a new lease on life!
Our team is dedicated to developing every project with a functional and well-designed approach. Your outdoor patio is a place to gather with friends and family and should be designed to develop that space. We're able to pour and create concrete patios that will wow your next round of guests!
Stamped concrete is an easy way to spice up your driveway or patio. Oahu Concrete Paving has the tools and knowledge to make this happen. Choose from a wide variety of patterns and textures to create a space that is uniquely yours.
Your driveway is more than just space where you park your car. This is usually on the front of your home and is your guest's first impression of your space. Opting for a concrete driveway keeps your car in better condition and boosts your home's curb appeal in moments!
Old concrete can become a problem in homes all around Honolulu. We can pour new concrete foundations and slabs, take care of repairs and resurfacing projects, as well as finish and pour concrete sidewalks and walkways for your home or business. Don't let your concrete crumble away! As some of the best concrete paving contractors in Honolulu, HI, we can revive your concrete and save you some hard-earned cash! Call us today! 
Being part of the community means more than just living here! Oahu Concrete Paving is dedicated to providing the best service to the entire island and creating projects and designs that stand the Hawaii weather and the test of time. 
Our service area extends across the entire island from communities like Kaneohe, Waipahu, and Kapolei. We can go anywhere on the island and create something for your home. Trusting your home or business to someone who is going to create for you can be daunting. Leave it to the professionals and people who understand the community and issues that your new patio, driveway, or retaining wall may encounter. 
When you're designing your next concrete project, let someone who knows not just concrete but the way the weather will affect your design. While Honolulu may feel like a paradise at times, wind, water, and extensive amounts of sun can quickly put a lot of wear and tear on your concrete building and overall design. Knowing how this will play out can save you time and repairs later on! 
Our teams experience on the island and with the weather you'll encounter here, help put you on better footing when it comes to your homes design and functionality. Every detail of your project from the original design to when the last pieces of the form are pulled away, are monitored by our team of professionals. We know and understand this community and area, so let us get you on better footing with a new concrete project! 
So much of our homes relies on quality concrete construction! It's not just the parts you can see but also foundations, footings, and walls. Without this base, your home won't be structurally sound and you'll start to see issues form down the road.  
Oahu Concrete Paving knows what it takes to get things done right the first time. Your home is your castle and trusting it to a concrete contractor who knows and understands your home and the process is crucial. With 15 years of experience, Oahu Concrete Paving can take your plain boring concrete to something that sets your home apart! 
It's not all about just the design! Functionality and longevity are important for any concrete project as well. We're a team who knows and understands how this functionality, longevity, and design work together to create a home you can be proud of! 
Designing a new area of your home takes a lot of attention to detail and nothing escapes our notice. We want every little piece of the equation put together in a way that makes sense to you and will keep your family safe and well protected from the elements for years to come. Trust your castle and your project to Oahu Concrete Paving! 
Give us a call today to start with a free estimate that will let you get started with a new project soon! You'll have the patio, driveway, and foundation of your dreams in no time with our team! 
We Provide Free Estimates
Have a question? 
Want to talk to someone? 
Ready for a quote?