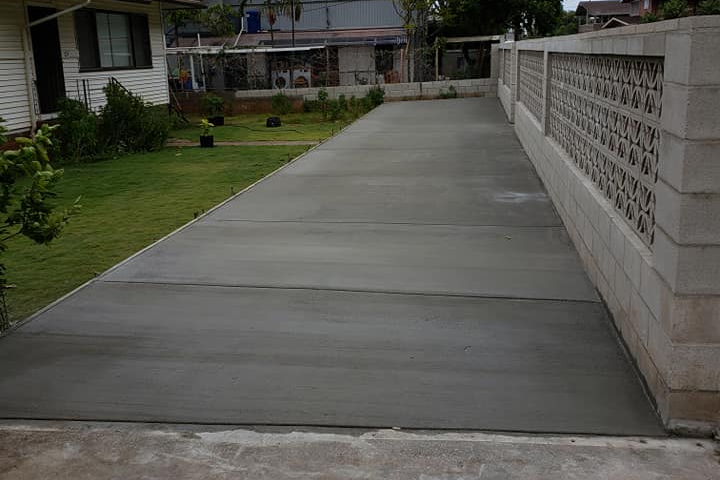 Why You Should Opt For Concrete Driveways on Oahu
At Oahu Concrete Paving we are experts in building concrete driveways on Oahu.  One of the best things about concrete driveways is that there are various concrete driveway options that you can choose from. A driveway made out of concrete is a perfect choice for Oahu that will last many years, and it won't cost you as much as other materials could. What's more, we offer concrete driveway options at competitive rates. Concrete may be the perfect choice if you are looking for a new driveway. You can also replace your old driveway with a concrete driveway. We are one of the most experience and reputable concrete driveway contractors on Oahu.  Get in touch with us today for a free concrete driveway estimate. 
Concrete offers unmatched durability. Concrete is an excellent option for your driveway since it is easy to maintain. Driveways are usually in use daily, and they experience a lot of traffic. For this reason, you should settle for a durable and affordable material for your driveway, rather than a material that will require regular maintenance and repair. What's more, you can choose from different colors, textures, patterns, or designs. You don't have to go for the monotonous gray driveway. Try something exciting! You can pick something that blends with your landscaping and decor style, and enhances the overall look of your property. 
At Oahu Concrete Paving, we have lots of exceptional options to pick from. We'd love to go through all options with you and show you examples of work we've done for past clients. We can help you choose the best option that matches your needs. We offer our clients free estimates, so feel free to contact us and start the journey to your new driveway. 
Benefits Of A Concrete Driveway
You can enjoy many benefits when you opt for a concrete driveway. 
Lifespan: The durability of concrete is unmatched. Concrete has a longer lifespan than other driveway materials.  
Lower Maintenance: Your driveway can last for many years by simply cleaning and sealing it occasionally. It can enhance your home's look.  
Renewable Resources: Sand, water, and natural rock make up concrete. It is a renewable resource. 
Recyclable: The materials used to make the driveway can be crushed and recycled. You can recycle the concrete if you want to remove it.  
Safe Energy: Your driveway can be lightened and brightened since concrete is reflective. Settling for concrete will ensure you don't spend much on lighting, and you'll have a safer driveway.  
At Oahu Concrete Paving, we strive to ensure you have an exceptionally great driveway that will serve you for a very long time. Our skilled craftsmen love their work. They have vast experience and knowledge in installing concrete driveways. Rest assured that we will go above and beyond to deliver quality workmanship.  
Offering our clients the best possible solution is our ultimate goal. We want to satisfy all your driveway needs. This process starts as soon as you pick up the phone to talk to us. It doesn't stop there. We will follow up after the job is done to make sure we have exceeded your expectations. We want you to be a returning client for all your concrete needs, so you can trust us to be your go-to experts for all things concrete. 
There's nothing for you to lose since we offer free estimates. Give us a call today to discuss how we can help you with your concrete driveway. We'll book an appointment to discuss all factors regarding your concrete driveway, and cover all potential options that Oahu Concrete Paving has to offer you. Our team of experts is excited to earn your business, and we look forward to talking with you about your driveway needs and making them a reality. Reach out to us today to find out how we can be of help!  Let us transform your driveway.