Concrete Repairs And Resurfacing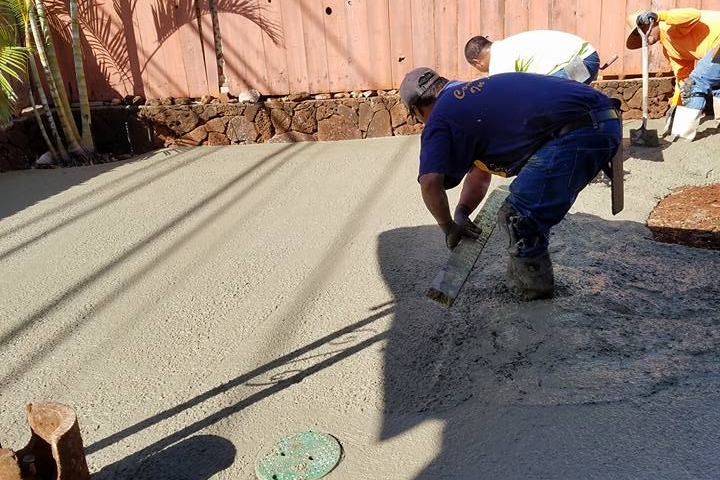 Concrete Repairs And Resurfacing Services
Concrete lasts a long time, but it's not indestructible.  Sometimes concrete on Oahu needs to be repaired or resurfaced or replaced.  Depending on the situation, many times concrete repairs or resurfacing is a good option.  Repairing or resurfacing concrete on Oahu is sometimes more affordable than replacing the entire concrete structure, but it all depends on the situation.  Call Oahu Concrete Paving to evaluate and determine if resurfacing or repairing the concrete is the best choice for your project.  Most concrete resurfacing companies on Oahu will resurface your concrete regardless of what the best solution really is. Oahu Concrete Paving does both concrete resurfacing and new concrete construction on Oahu, allowing us to give you the best options possible. 
At Oahu Concrete Paving, we offer concrete repairs and patchwork services to our valued clients. Talk to us today if you require any patchwork or repairs to your concrete surfaces. We offer free consultations. All our employees are highly trained experts who have extensive experience with concrete repairs and concrete resurfacing. Our employees have a full understanding of our customers' requirements and needs. We strictly abide by the specifications of our clients, ensuring that we deliver quality work and exactly what they want.  
Concrete Repair Vs. Replacements
Many customers get confused about whether it is wise to repair or replace damaged concrete. They wonder which is more cost-effective. On a good repair job, you may never notice that the concrete has had some repair work, and it may be completely undetectable. Oahu Concrete Paving offers top-notch repair jobs that will ensure your concrete lasts for years to come. 
Our estimator can give you cost estimates of total replacements and repairs. This gives you complete control of the cost, and you don't have to worry about going over your set budget.  
Our free consultation services can help to determine what will fit your requirements and needs. Talk to us today to find out more about our services. Let us show you how we can take care of your concrete resurfacing and repair needs. Our experienced experts will educate you with all the necessary details for your projects. 
One of the cosmetic issues of concrete is surface failure. Functional concrete can have a chalky surface or look bad that looks as though it is damaged. Realizing the extent of surface failure gives us various choices for repairs.  
Concrete overlay only is one choice for repairs. Here, surface damage and minor imperfections are covered by a new overlay. It is placed on the concrete's top giving it a new look. It restores the original look of concrete. Overlay only is a cost-effective option that lasts a long time. 
Reinforced steel isn't affected by partial depths concrete repairs. Here, damaged concrete areas are done away with, and the edges are removed. Replacement and sealing of the concrete areas happen after this removal. This helps to offer even more protection against damage.  
You can completely replace damaged concrete areas by using full depths repairs. Here, the damaged areas are totally removed. This includes any steel. Concrete replacement occurs once the area is prepped. The repair seems like the brand new original, and it will last for many years.   
At Oahu Concrete Paving, we offer free quotes to all our clients. Contact us today to get started on your concrete replacement or repair needs. There isn't a project too small or too large for us, and our experienced workers are ready to serve you. We will treat you with professional courtesy from the first time you contact us, and this will continue until we are done with the job. We want you to be completely satisfied with our work. 
You can restore your concrete cost-effectively using our concrete repairs and patchwork services. These services will restore the initial beauty of your concrete. You won't have to spend a fortune on repairs. Contact us today to get repair and replacement estimates. Don't sit by any longer as your concrete continues to get damaged. Call us today to begin your concrete project.