Concrete Sidewalks And Walkways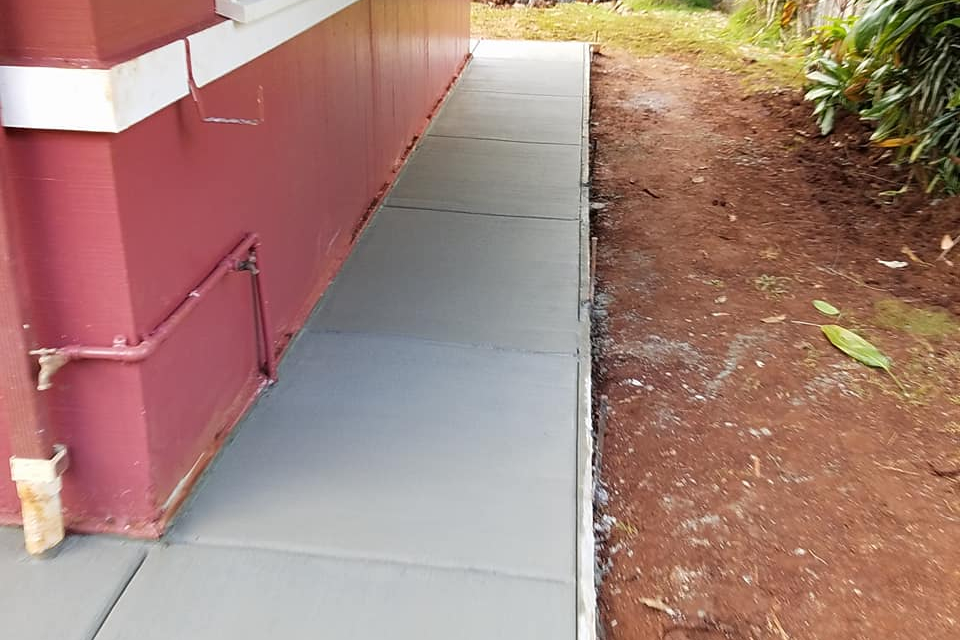 Concrete Sidewalks and Walkways for your Home or Business
A concrete sidewalk or walkway is something we often use on a daily basis.  Whether is for your business, or office, or at home, a concrete walkway gives is a reliable and durable exterior walking surface.  Oahu Concrete Paving has built many concrete sidewalks and walkways on Oahu for both residential and commercial applications.  From small walkways around your home to large walkways for malls, parks, and hotels.  A concrete sidewalk on Oahu can be a simple broom finished standard sidewalk or it can be a wide meandering stamped concrete walkway to match your existing landscaping.  For a reputable concrete sidewalk company on Oahu, call Oahu Concrete Paving. 
There are lots of fantastic options for stairs and walkways that we offer to our clients. You are in the right place if you are looking for steps and walkway solutions. Call us today to talk about the texture, style, and color that you prefer. We will offer free written estimates. Our highly trained employees will help you with your steps and walkways.  
You can peruse the fantastic options on the walkways that we offer. You can use the walkways for the neighborhood and home. At Oahu Concrete Paving, we work on residential, commercial, and industrial projects. We offer free consultations and free estimates to our clients. There are various colors, styles, and textures that you can choose from.
Why Should You Opt For A Concrete Walkway?
Many neighborhoods have sidewalks. Walkways create paths from houses as well as through gardens and parks. Some walkways obviously get more traffic than others. Lots of great walkways exist, and when done right, they can add a lot of beauty to your project. Concrete can last for a long time on your walkway because it is a durable material.  
You can redirect foot traffic away from the landscaping with concrete walkways, which can prevent landscaping damage from happening. Walkways can ensure there is a seamless interaction between nature and people.  
There are various colors that you can use for concrete staining, and texture can also be added to provide footing. It can also help to bring out the landscaping's design element. Our professional contractors at Oahu Concrete Paving are great at their work. We have splendid craftsmanship that will bring out the beauty of your home and landscaping. This is a great way to ensure that your house stands out from the rest within your neighborhood, with materials that will last for many years to come. 
Concrete steps and entryways are a great way to enhance your home's beauty. They add decor whilst improving your home's appearance. There are various styles and textures to pick from. This ensures you get your desired unique look.  
We love turning your ideas into reality. Let us help transform your steps and walkways! We take pride in what we do, and we love our craft. Our skilled technicians have spent years perfecting their skills, and this is what makes us stand out from the other companies. We have vast experience and excellent craftsmanship.  
We understand that you want to love how your home looks and enjoy having a beautiful home. We know the importance of first impressions. Our professionals strive to ensure your concrete has perfect thickness, style, color, and texture. We have handled the installation of concrete steps and walkways for many years and we appreciate the uniqueness of every job. No two projects are the same.  
Contact us today at Oahu Concrete Paving for all your concrete needs. We will walk you through our entire process regarding concrete steps and walkways. We will show you what we do, and examples of our past work. There's nothing to lose since we offer free consultancy services and estimates. You have everything to gain from working with professionals to bring your vision to life, so allow us meet all your concrete needs. At Oahu Concrete Paving, we handle both residential and commercial projects and look forward to earning your business.