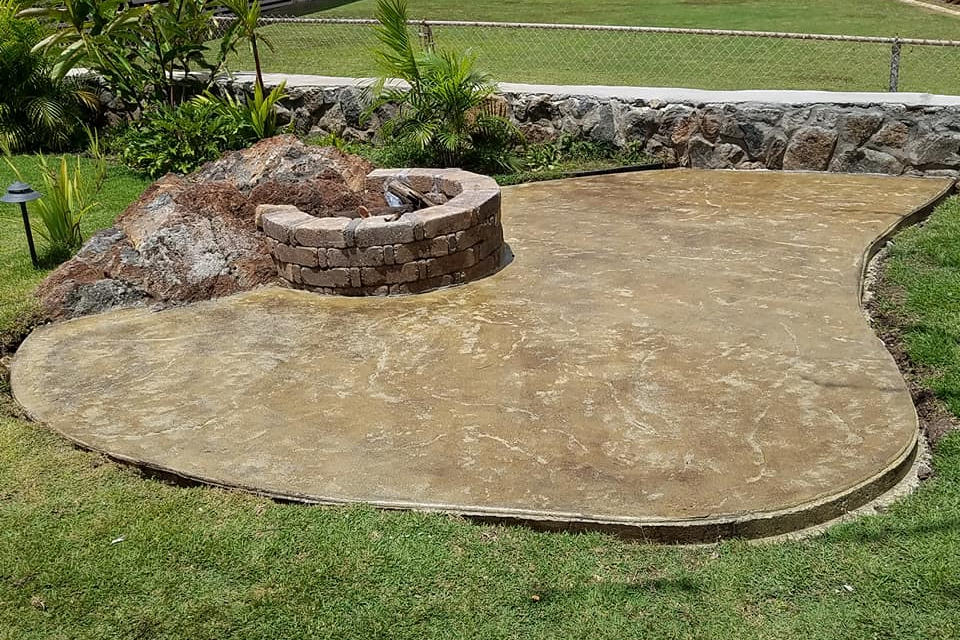 Why Choose Stamped Concrete?
Stamped concrete on Oahu is a popular choice for driveways, pool decks, walk ways, and patios.  Oahu Concrete Paving has years of experience with stamped concrete.  Stamped concrete offers the strength and durability of concrete, and offers endless designs and color combinations.  If you are looking for a stamped concrete contractor on Oahu, call Oahu Concrete Paving for a free on-site consultation. 
Do you need the services of the best stamped concrete contractors in Honolulu, Hawaii? You are in the best place to get professional help. Call us today for a free written estimate. We offer consultancy services to discuss your concrete needs.  
Everything You Need To Know About Stamped Concrete
Stamped concrete constitutes pouring concrete on driveways, parking lots, walkways, or patios. Pigment, patterns, and texture are then added as we wait for it to completely dry. Stamped concrete can be used for residential and commercial projects. Stamped concrete can look like pavers, cobblestones, brick, and much more if the job is done by professionals. 
Are you concerned about whether it is worth buying the real material? Are you wondering whether you should settle for stamping concrete? There are various limitations that you need to consider. For example, original surface material like brick, cobblestones, and pavers may not turn out as planned. This is dependent on your location in Honolulu, Hawaii. This also depends on the set up that you desire. These factors may significantly affect the outcome.  
For instance, you have an uneven surface that you want to remodel. You may be hoping to remodel the surface in a structured way by laying all elements flat. The materials will eventually start to spread out as time passes. You can effortlessly get the structured and flat surface that you love when you use concrete. However, you have to find the best contractors for the job. Contact us today for quality concrete services.  
What Are the Benefits of Concrete?
Very Economical 
Concrete is an affordable material. It is cheaper than the materials it imitates. For example, tiles, bricks, and stones can be costly. You may have to spend a lot of cash on these materials if you are planning for areas like patios or walkways, driveways, and pool decks. You'll spend a fortune when using these materials to cover large surfaces. 
Low Maintenance Required 
Materials that are placed on uneven surfaces eventually start to crumble and separate. The job needs to be redone if this occurs, as this will help bring back the original look. Disintegrated cobblestones may end up shattering your windscreen if you don't take care of your driveway. Repairs using concrete would cost much less in comparison to natural materials. Cleaning concrete is easy. You can clean concrete by power washing the surface with cleaning detergents. 
Durable  
No one wants to spend money on something that doesn't last. You don't want to install a structure that wears out in just a few years. Concrete is a durable material. Concrete is highly weather resistant. It is for this reason that it is preferred for large outdoor surfaces. It doesn't get any damage from snow, rain, hail storms, and hot temperatures. Wearing out of concrete takes a long period, however, when it finally happens, replacements can be easily done.  
Are you thinking about adding concrete to your outdoor commercial or residential surfaces? Contact us today for the addition of concrete in Honolulu, Hawaii. Hire the best professionals to enjoy quality workmanship in Honolulu, Hawaii.